Cabanas Beach Bar and Grill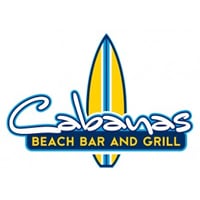 The 4-1-1
Cabanas Beach Bar and Grill: 5 things you need to know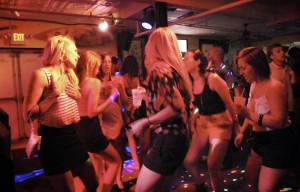 1 Cabanas Beach Bar and Grill opened in 1999 as the latest in a series of short-lived restaurants in the lower level of an historic Victorian building on the corner of Decatur and Beach avenues. Its popularity since, both among locals and visitors, is due to the creativity and energy of its management, which brings in an array of live acts, has interesting menu offerings and maintains a carefree atmosphere that attracts young and old looking to party and families just looking for a meal.
2 The bar takes care of its own. This summer, it started exclusively selling Cape May IPA, the first production beer from the newly opened Cape May Brewing Company. The bar also offers all residents of the 08204 zip code free cover year-round. It has a free Beach Bucks card that gives holders $1 toward any merchandise purchase for every $10 spent on food. And, of course, the seafood comes from local fishermen.
3 Throughout the summer there is live entertainment on weekends for happy hour jam sessions and late-night dance parties. On Friday mornings, steel drum bands play for breakfast starting at 9 a.m. On certain Fridays, Saturdays and Sundays, acoustic rock cover bands play the front stage from 4:30 to 7:30 p.m. and full bands play the back stage from 10 p.m. to 2 a.m.
4 With the canal running across the peninsula just north of the city, locals sometimes think of themselves as living on an island. Appropriately, the Cabanas menu offers an eclectic collection of island-influenced cuisine, such as the Jamaican beef patty, Cape Island crab burger, the jerk pork loin and the Rasta Pasta.
5 Despite the 19th-century setting, the business is 21st-century tech savvy. In addition to a website that also links to a Facebook page and Twitter feed, Cabanas has its own iPhone application, which shoots out notifications about special events, takes reservations, has an entertainment calendar and many other features, including a slyly placed tip calculator.
The Scene
Music: For a recent happy hour, the acoustic duo Blind Drunk played a variety of classic rock favorites and took requests from the crowd, ranging from Dave Matthews Band to Jimi Hendrix. At night, Grape Street Riot played sets of modern party music that made the young crowd go wild.
Vibe: The scene of the beach just across the street and surfboards lining the walls give the bar a feeling of being a pub out of southern California or Key West. During the day, families dine while groups of people 30 and older hang out at the bar. After 7 p.m. the average age gets lower and lower, so that after 10 p.m. the crowd is typically a bunch of locals and visitors age 30 and younger.
Coming Up
Thursday: Bar Trivia, 8 p.m.
Friday: Live music, 9 p.m.
Sunday: Football Night with Yuengs and Wings specials, game time.
What They're Saying
Ron Arellano, 60, Cape May
"To go out and have a beer in a nice bar environment, this is the best place in town. After 7 o'clock, the crowd gets younger and younger."
Vitals
What: Cabanas Beach Bar and Grill
Where: 429 Beach Ave., Cape May
Season: Open year-round
Days/Hours: Open daily; 11:30 a.m. to 2 a.m. Mondays to Thursdays, 8 a.m. to 2 a.m. Fridays and Saturdays
Size: 4,800 square feet
Capacity: 300
Cover: Varies by event, never for residents in 08204 zip code
Dress code: Casual
Drinks: $2 to $3.50 for domestic light beers, $3 to $5 for well mixed drinks, $2 to $6 for shots. Weekly drink specials: Happy hour from 3 to 7 p.m. daily, with half-priced drafts, beer bottles, wine and margaritas. Pabst Blue Ribbon beers and Twisted Teas are $2.50 all day Memorial Day to Labor Day.
Demographic: Families and people 30 and older during the day, typically younger than 30 at night
On the Web: www.cabanasonthebeach.com
History
Debuted: 1999, since remodeled, added open-air dining and new bar
The look: Guests enter through a door of an historic Victorian building on the corner of Decatur and Beach avenues into a single, long rectangular room. There is a bar and pool table on the left, another bar and tables to the left, with more tables in the back of the room. Acoustic guitarists play on a small stage at the front of the bar, while larger bands play in the rear on another stage. The room's wooden walls are covered in surfboards, artwork, beer advertisements and six 50-inch HD TVs, with an 8-foot HD projector in the rear.
Getting There
Please remember to always drink responsibly
Directions
Find Jitney
Close
AC Map
Close
Tell'em What You Think