GYPSY BAR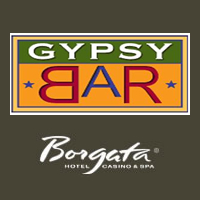 The 4-1-1
Gypsy Bar: 5 things you need to know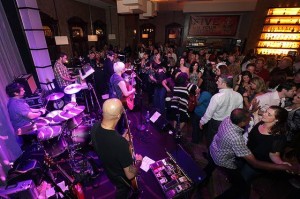 1 Away from the high-profile megaclubs on Borgata Hotel Casino & Spa's casino floor sits a less massive venue with no reduction in good times: Gypsy Bar. As the only place in the building to find free live rock music on a near-daily basis, it maintains the swagger of its surroundings but adds some raw energy to the scene. It's still a relatively posh atmosphere, but has hints of punk-rock attitude.
2 Coming in hot! Gypsy Bar specializes in tequila, and has myriad offerings of the fiery Mexican spirit that should satisfy nearly any preference and price range. There is the obligatory $8 shot or glass of Jose Cuervo Traditional, $11 for a glass of Cabo Wabo or up to $75 for a drink of Patron Gran Burdeos. If you only ever thought of tequila as something that makes you forget, maybe you should try on some flavors to remember.
3 The bar's been known since its debut as a place to find high-quality cover music as well catch some occasional hit original music. Jon Bon Jovi, Slash, Dave Navarro and even Jimmy Fallon have made appearances, and party bands that play up and down the East Coast are regulars. This year, the sound system was upgraded with some of the latest equipment, enhancing the environment into a private rock concert hall.
4 With no cover charge and no dress code, this is definitely one of the most relaxed spots in the casino. On any given day there are dudes wearing T-shirts and sneakers next to guys with tucked-in button-ups, or girls in zipped-up dresses and heels dancing and singing next to ladies in jean shorts and tank tops. It is a welcome departure from some of the more status-conscious venues elsewhere.
5 Overall, Gypsy Bar is a pretty intimate establishment, fitting just over 130 people on most nights. But you also can reserve the space for a private party of up to 150 people, for which the bar also offers a menu of platters and snacks ranging from a nacho bar to tequila lime wings to fish tacos. To book, fill out the online form on the Gypsy Bar page at BorgataNightlife.com
The Scene
Heard on a Saturday night: Cover band and local favorites Goodman Fiske - one of two bands performing this New Year's Eve at the bar - brought the crowd to life with "The Cave" by Mumford & Sons, "Tush" by ZZ Top and "Shook Me All Night Long" by AC/DC.
Scene at midnight: The bar is packed three people deep, the seating is all taken and the dance floor is shoulder-to-shoulder. While different groups keep to themselves at the tables, others mingle in between or while waiting for drinks. The closer to the stage, the more wild the crowd is, up to the very front where people from their early 20s to mid 40s cheer, jump and sing along with the band.
Vitals
What: Gypsy Bar
Where: Borgata Hotel Casino & Spa
Days/Hours: 6 p.m. to close (between 1 and 3 a.m.) Wednesdays to Sundays
Size: 2,500 square feet
Capacity: 133 people
Cover: None
Dress code: None
Drinks: $3 to $8 beers, $9 to $12 mixed drinks, tequilas from $7 to $75
Weekly drink specials: Wednesdays: $3 Miller Lites; Thursdays: $3 Coors Lights and $5 Margaritas; Sundays: Dos Equis buckets
Demographic: All ages
On the Web: www.BorgataNightlife.com
History
Owner: Borgata Hotel Casino & Spa
Debuted: 2003
The look: Blue and amber lighting accents the dimly lit bar, highlighting the tequila bottles that bear the same colors and are stacked up behind the bar near the entrance. Tall wooden tables with plush leather bar stools are set in rows facing the slightly raised stage, which is in the far corner of the roughly L-shaped establishment. Tall glass doors and windows provide a view out to the casino floor, as well as into the bar for the passers-by.
Getting There
Please remember to always drink responsibly
Directions
Find Jitney
Close
AC Map
Close
Tell'em What You Think