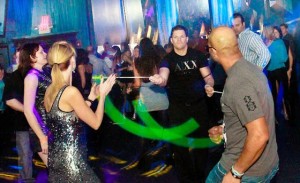 The 4-1-1
Five things you need to know about Luxx Lounge
1 The Sherwood family designed something for everyone when they completely renovated the entertainment complex and hotel on Martin Luther King Boulevard between Pacific and Atlantic Avenues. There is the Diving Horse gentlemen's club, the Brass Rail gay bar, the Saints and Sinners erotic couples club, and then there is Luxx Lounge, a straight-up classy nightclub for all ages, sexes and backgrounds. Located through the same main doors as the Diving Horse but on the intermediate level before the gentlemen's club, it is one of the only upscale dance clubs in Atlantic City outside the casinos.
2 To compete with the flashy productions now found at nightlife venues throughout the city, the Sherwoods spared no expense renovating Luxx into a chic and shiny space. Mirrors line the walls, VIP couches round the dance floor and top-notch lighting and sound equipment complete the scene that is just as stylish as any in the resort.
3 Luxx was once Studio Six, a club famous for its non-stop electronic dance music parties that would go well past dawn. Luxx is also primarily a late-night venue, getting its best crowds after the casino megaclubs close around 3 or 4 a.m., especially after a big event in the city like a concert or boxing match. Don't be surprised if it's empty around 1 or 2 a.m. and then suddenly gets crowded when most other clubs and bars start shutting down. If there's a good crowd, the lounge stays open to 7 a.m. or later.
4 The lounge is constantly hosting new promotions and parties. Currently, Mondays are Latin Nights, Wednesdays are Industry Nights and Thursdays are European Nights. If anything special is going on in the Diving Horse, you can be sure that party will spill into Luxx as well. The club always features a special event for whatever holiday is coming up, with some of the best parties in Luxx so far having been its Halloween and Mardi Gras
5 While Diving Horse has earned a reputation for its beautiful women, Luxx regularly hosts studly men for its "Hunk-O-Mania" male revue. The parties every Friday and Saturday night go from 9 to 11 p.m. and feature male strippers for crowds of screaming women who are typically out for bachelorette or birthday parties. For more information and to make reservations, go to LuxxAC.com.
The Scene
Music: All the latest hip-hop and R&B hits are sure to be heard, and the music gets more electronic and instrumental as the night goes on.
Scene at 3 a.m.: A thoroughly mixed crowd of all ages and ethnicities grooves to the house music in the light that reflects off the mirrored walls. Bartenders in black corsets pour drinks at the bars and girls in skin-tight dresses pour their own drinks at the bottle-service tables. Some of the couples and groups of single men and women came specifically to party at Luxx, while others saw the party from the inside of Diving Horse and came in to check out the scene.
History
Club Owner: Angie Sherwood-Gurley
Debuted: October 2011
The look: One four-sided room is dimly lit with large mirrors covering the walls and white rotating lights reflecting off sparkling metal throughout. There are two bars, with the main one against the far wall from the entrance. Minimalist couches surround the dance floor with low tables at each.
Coming Up
Thursday: European Night
Saturday: House DJ
Monday: Latin Night
Wednesday: Industry Night
Vitals
What: Luxx Lounge
Where: 9 S. Martin Luther King Blvd., Atlantic City
Days/Hours: 11 p.m. to 7 a.m. Monday, Wednesday, Thursday, Saturday,
Capacity: 400
Size: 5,500 sq. ft.
Cover: $20, complimentary on guest list
Dress code: Upscale
Drinks: $3 to $5 beers, $5 to $7 mixed drinks, $3 to $6 shots. Bottle service: Bottles start at $150 Drink specials: $100 Devotion vodka bottles
Demographic: All ages, 21 and up
On the web: LuxxAC.com
Getting There
Please remember to always drink responsibly
Tell'em What You Think