Dockside Bar and Grill in Mays Landing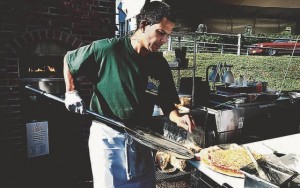 The 4-1-1
Bar of the Week: Dockside Bar and Grill
The Inn at Sugar Hill is a long-standing Mays Landing staple, and the establishment's junior counterpart, the Dockside Bar and Grill, is garnering as much notoriety and success.
Margaret Boylan, manager of the Dockside Bar and Grill, is proud that both the Dockside and the Inn at Sugar Hill have been family owned and operated for nearly 25 years, and that when it comes to live entertainment, they don't like to stray too far from the bands that call Mays Landing home.
"All of our bands are from the area, and never too far away from Mays Landing," she says. "Our entertainment is different because I try to arrange the music schedule to continually hit different genres of music - one night there will a solo reggae guitarist, and the next there will be a three-piece band rocking out to the best songs of the '70s. It's a smaller arena than most of the Atlantic City outdoor bars, so there is a personal touch."
Be Our Guest
In Three Words: If you ask Boylan to describe the Dockside Bar and Grill in only three words, she'd have to say "relaxing, fun and family-oriented."
Favorite Players: Some of the bands that grace the Grill's stage include Fish In A Cup, The TJ Frye Band, Joe Collepardi, Glen Eric, Love and Branca, Justin Weiner, Hampton Wick and Reed Kendall.
One Sexy Drink: "Our bartender, Kate, created a drink that is absolutely amazing," Boylan says. "It is frequently a $5 special for Fridays and Saturdays, and we call it 'Sex Wax.' It smells exactly like surfboard wax!" Other specialty drinks they offer are made from such spirits as 3 Olives and Bacardi Arctic Grape Rum.
No Matter Your Taste: The Dockside Bar and Grill has an ever-expanding menu, offering favorite munchies like the Dockside Wings, to specialty wraps, signature salads and their latest turkey and veggie burgers.
Vitals
Owner: Boylan is the manager, while her father, Larry Boylan, is the owner. The Inn at Sugar Hill has been open for 24 years, while this year marks the Dockside Bar and Grill's 16th birthday.
Where: 5704 Mays Landing-Somers Point Road, Mays Landing.
When: The Dockside Bar and Grill is open for food and drink Tuesdays through Saturdays at 4 p.m., and opens Sundays at 3 p.m. The bar opens one hour prior each day before food is available. Closed Mondays. Call 609-625-2226.
Other Info: The Dockside Bar and Grill accepts all credit cards, and also offers gift cards for purchase. It has on-site and overflow parking and are handicap accessible. You can even throw a private party or event at the Dockside - just call the bar and grill any weekday between noon and 4 p.m. for more information.
Coming Up
Friday: Live music, 6 p.m.
Saturday: Live music, 6 p.m.
Tuesday: Trivia, 9 p.m.
Getting There
Please remember to always drink responsibly
Tell'em What You Think