Ri Ra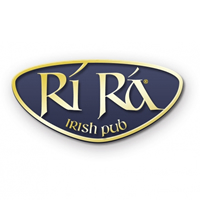 The 4-1-1
Ri Ra: 5 things you need to know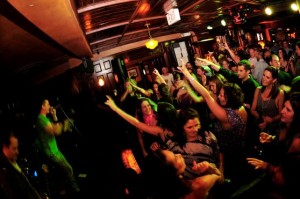 1 Ri Ra, or "uproar" in Irish Gaelic, is one of the most consistently lively bars in Atlantic City, let alone The Quarter at Tropicana Casino and Resort. Built using salvaged materials from Victorian-era Dublin pubs, the venue is a fusion of old-time Ireland with modern American nightlife: TVs play soccer and serve Guinness during the day, crowds dance to popular cover bands, drinking cocktails and light beers at night.
2 The Tropicana is packed with options for going out on any given night of the week, but Ri Ra is the only place you can find live rock music on a regular basis. Bands play at least every Thursday, Friday and Saturday, for a maximum of only a $5 cover charge on a typical Saturday. On any of those nights, it's a practical guarantee people will either be pumping their fists in the air right in front of the stage, or jumping on the stage itself.
3 As you should expect, there always is a variety of beer on tap at Ri Ra, with the classics alongside crafts. There's also a nice selection of Irish whiskey, the term itself an Anglicized version of the old Celtic term meaning "water of life." The best time to enjoy a good drink here is around happy hour, which not only runs 4 to 7 p.m. Sundays to Fridays, but also late-night from 11 p.m. to close Sundays to Wednesdays.
4 Like any true pub, there's a good portion of daylife going on at Ri Ra as well. Catch anything from European club soccer to the National Football League during the day on the bar's several TVs and its massive projection screen that lowers behind the bar. As a self-defined "Irish Bistro," there also is a surprisingly good lunch and dinner menu that goes far beyond the typical pub fare.
5 There are a lot of ways to customize your Ri Ra experience, such as joining the Pub Club, which gives you monthly updates and vouchers on special occasions, or booking your own private party in the space. For more info, check out the venue's well-made website at http://www.rira.com/rira/atlantic" target= "_blank">www.rira.com/rira/atlantic_city
The Scene
Heard on a Saturday night: Cover band "The Interns" played a variety of '90s and '80s music, with a version of Sublime's "What I Got" that threw in verses from Snoop Dogg's "Gin and Juice" and "The Humpty Dance" by Digital Underground. In between sets, videos of the latest hip hop played on the projection screen, such as "Dirty Picture" by Taio Cruz featuring Ke$ha.
Seen at midnight: A mass of people extends from the entrance to the stage, with the crowd packed several deep at the bar, every table occupied and a mob in front hanging on to the band's every note. Everyone is casually dressed, except for the three or four bachelorette parties, which scream and make their own scene in different parts of the bar. In the rear, a few couples and friends sit around and talk over beers in a separate room, away from the uproar.
What They're Saying
Tara Doernbach, 25, Egg Harbor City
"It's a fun place to meet with friends. If nothing else is going on, there are always people in Ri Ra."
Vitals
What: Ri Ra Irish Pub
Where: The Quarter in Tropicana Casino and Resort
Days/Hours: 11:30 a.m. to 2 a.m. Sundays to Wednesdays; 11:30 a.m. to 3 a.m Thursdays to Saturdays
Size: 4,500 square feet
Capacity: 287
Cover: $5 on Saturday nights
Dress code: Casual
Drinks: $4 beers, $6 to $11 mixed drinks and shots
Weekly drink specials: 4 to 7 p.m. Sundays to Fridays, 11 p.m. to close Sundays to Wednesdays: $2.50 beer bottles, $4 mixed drinks, $4 Guinness drafts, $3.50 Harp, Smithwick's, Stella Artois and Blue Moon drafts.
Demographic: All ages, 21 and older after 10 p.m.
On the Web: www.rira.com
History
Club Owner: RiRa Holdings
Debuted: 2004
The look: From the 1940s Havana, Cuba, theme of The Quarter, guests step into Ri Ra and are transported across an ocean and back a few decades into an Irish pub at the turn of the 19th Century. Everything is made of darkly stained wood, some of it influenced by the era, the rest of it actually pieces salvaged from genuine pubs in Ireland. A bar lined with bottles, lights and TVs occupies one wall, tables and chairs occupy the other, and a slight stage is at the front, with an open area in between where people dance, mingle and cheer on their teams.
Getting There
Please remember to always drink responsibly
Directions
Find Jitney
Close
AC Map
Close
Tell'em What You Think