A Touch of Italy in Egg Harbor Township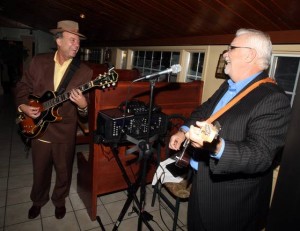 The 4-1-1
A Touch of Italy presents side of entertainment for patrons
A Touch of Italy brings homemade Italian cuisine to southern New Jersey on a nightly basis, and has been for more than 30 years. Manager Scott Blackman has been with the establishment for 11 years, and is proud of the family tradition and values A Touch of Italy embraces, even with its entertainment.
"We began having entertainment only one night a week about 10 years ago," Blackman explains. "We decided to expand into three nights a week because of the draw and popularity live music brings to our restaurant. We are considering adding a fourth night, Friday nights, in the very near future."
Blackman believes A Touch of Italy is known throughout the southern New Jersey area for more than just fine food and drink, but for a unique and inviting atmosphere that brings guests back time and time again.
"Our live entertainment really adds to our atmosphere," Blackman adds. "It's an added bonus of coming to A Touch of Italy, and we draw a great crowd. Some guests come in every week to see the same groups. Our live entertainment definitely bettered our business and brought in new, loyal guests."
Be Our Guest
Your Favorite Hour: Who doesn't love a good Happy Hour? Visit A Touch of Italy 4 to 6:30 p.m. Mondays to Fridays or 2 to 5 p.m. Sundays to take advantage of its Happy Hour Specials, including reduced-priced drinks and food.
Just Like Mom's: "We serve homemade, cooked-to-order Italian food," Blackman says. "We also only cook our pizzas in a brick oven. We pride ourselves on serving the freshest fish, meats and pasta; we only use high quality ingredients, and always have."
A Piece Of Local History: A Touch of Italy started as a small pizza place in Pleasantville more than 30 years ago. "When they started to serve dinner, guests would be waiting in a line out the door for a table," Blackman says, "so we moved to where we are now, going on 18 years."
Vitals
What: A Touch of Italy
Where: 6629 Black Horse Pike, Egg Harbor Township, 609-646-1855
Owners: Lena Palladino, Andrew Palladino, Carmine Palladino, Andy Vourvhais and Anna Vourvhais
When: 4 to 10:30 p.m. Mondays through Saturdays, 2 to 10 p.m. Sundays.
Other Info: On-site parking, all major credit cards accepted, reservations recommended for groups of five or more, handicap accessible.
Websites: www.touchofitaly.net, or become a fan of A Touch of Italy on Facebook.
Coming Up
Thursday: The Baltimore Boys, 7 p.m.
Tuesday: Lisa and Judi, 7 p.m.
Wednesday: Alex Glover and Bob Mower, 7 p.m.
Getting There
Please remember to always drink responsibly
Tell'em What You Think